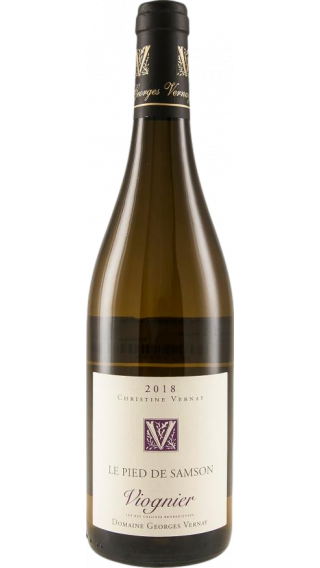 Special Price
€ 25.17
Regular Price
€ 27.96
Save € 2.79 (10%)
€ 25.17
Total (including VAT)
Viognier
Georges Vernay Viognier Le Pied de Samson 2018
Viognier
Viognier
Rhone
France
Vintage

2018

Size

750ml

Type

White

Alcohol

13%

Varietal

Viognier

Grapes

Viognier

Winery

Domaine Georges Verney

Region

Rhone

Country

France
Drink now and through to 2026

When it comes to high quality Viognier, The Vernay name jumps out as one of the best producers anywhere. They have promoted Viognier around the world and are recognised for being one of the key factors of the popularity of the viognier grape globally. The Vernay family own and farm 7.5 hectares of vines at Condrieu and is widely considered amongst the best Condrieu has to offer. They also produce grapes from a higher altitude that gives a very good Vin de Pays Viognier due to it falling outside of the appellation – Le Pied de Samson.

In order to provide the superb quality of Le Pied de Samson, the low yields are harvested as late as possible by hand and only in the morning – this aids in making the fermentation start off cool. Following a malolactic fermentation, which is relatively rare in white wines, the wine is then fermented in temperature controlled steel vats – this ensures the fruit character of the wine is not lost. Then it is aged in oak vats for 6 months prior to bottling in the Spring.

The colour is a warm, pale yellow and on the nose, there are quite intense floral notes and ripe stone fruit such as nectarine and apricot and a very slight hint of ginger.

On the palate, the ripe fruit nose follows through with ripe pear, peach and apricot and a touch of spice on the finish. Low acidity and medium body match well with just a slight sweetness on the finish which is medium in length.

The floral notes and hint of sweetness make this an excellent food match with Asian cuisine or as an aperitif on a summer day.