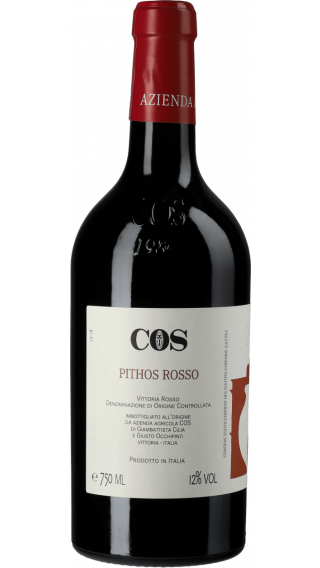 € 23.98
€ 23.98
Total (including VAT)
Nero d'Avola
COS Pithos Rosso 2018
Nero d'Avola
Nero d'Avola 60%, Frappato 40%
Sicily
Italy
Vintage

2018

Size

750ml

Type

Red

Alcohol

12.5%

Varietal

Nero d'Avola

Grapes

Nero d'Avola 60%, Frappato 40%

Winery

COS

Region

Sicily

Country

Italy
Drink now through to 2028. No need to decant before serving.

The COS estate in south-eastern Sicily was founded in 1980 by three friends, Giambattista Cilia, Cirino Strano and Giusto Occhipinti, with a vision to pioneer a different approach to winemaking in this traditional and conservative part of Italy. One of their great innovations was the use of "giare" or large terracotta amphorae which is used to make their Pithos red and white wines.

These sizeable clay vessels were used in ancient times to make wine, but over time their usage has been abandoned in Sicily and most other old winemaking regions. To discover and reintroduce the giare, the three friends travelled to Georgia where their usage is still commonplace. There they learnt how to ferment their wines with indigenous yeasts in the giare and to allow the wines to mature inside the vessels without altering its character in the way that oak barrels would.

The result is a delicious blend of Frappato and Nero d'Avola which clearly expresses the pure aromatic character of the two grape varieties. On the nose there are seductive floral aromas and hints of ripe red berries, while the palate offers wild mushrooms, dried herb and earthy flavours along with a bright acidity.
Available in cases