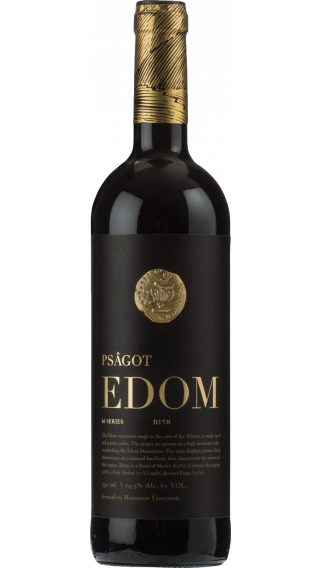 Special Price
€ 32.75
Regular Price
€ 35.70
Save € 2.95 (8%)
€ 32.75
Total (including VAT)
Bordeaux Red Blends
Psagot Edom 2017
Bordeaux Red Blends
Merlot, Cabernet Sauvignon, Cabernet Franc, Petit Verdot
Judean Hills
Israel
Vintage

2017

Size

750ml

Type

Red

Alcohol

14.5%

Varietal

Bordeaux Red Blends

Grapes

Merlot, Cabernet Sauvignon, Cabernet Franc, Petit Verdot

Winery

Psagot

Region

Judean Hills

Country

Israel
Kosher wine. Drink now through 2030. No need to decant before serving.

This majestic Israeli wine is a Bordeaux-style blend composed of 75% Cabernet Sauvignon and 25% Merlot sourced from prime vineyards in the Jerusalem Hills. On the nose there are enticing hints of cassis and crushed dark berries while the first sip reveals a full body, firm tannins and a long finish with subtle spiced notes. Matured in oak barrels for 14 months, Edom is a powerful and intense kosher red wine that pairs well with hearty red meat dishes like roast beef, steak and even barbecued meats.

Psagot winery is an award-winning estate located in Binyamin just to the north of Jerusalem with stunning vineyards set on mountain terraces at 700-900 metres above sea level. Conditions here are ideal for producing quality wines thanks to the sunny summer days cooled by breezes from the hills which helps to preserve aromatic complexity in the grapes.

This is a truly ancient winemaking region which is reputed to be the home of Abraham who grew grapes and farmed here thousands of years ago. Evidence of this long viticultural history is found on the Psagot labels which feature a coin found in an ancient wine press on the estate that dates back to the First Jewish–Roman War of 66-73 CE.
Available in cases